aspire (uh-spahyuhr) v.

1. To rise up; soar; mount; tower
2. To long, aim, or seek ambitiously
3. To have a great ambition or ultimate goal; desire strongly
A TWO-DAY, STEP-BY-STEP COACHING AND GUIDANCE FOR A PEACEFUL, EFFECTIVE AND FULFILLING LIFESTYLE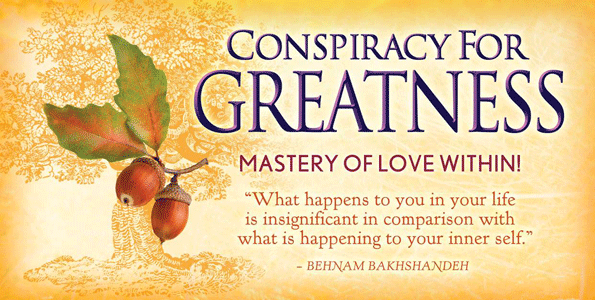 This program challenges the deeply-ingrained internal images and beliefs about yourself, others and how the world works, so that you can dissolve the limiting thoughts and barriers. The "Conspiracy for Greatness" course shows us just how powerful we are and how we can overcome limits we place on ourselves, our lives and our future.
In this powerful two-day course, we will examine the different areas of our lives, specifically, the areas that we have impacted with our own conspiracy for smallness and the arguments of our limitations both personally and professionally, such as:
How are you getting in your own way as you become who you are?

How are you allowing your opinion to take over your relationships?

How are you judging both yourself and others?

How are you killing off people around you?

Are you moving through life, because you "have to," or because you "love to"?

Do you have a vision for your life or are you just dragging your past with you?
TOPICS - FIRST DAY
• We are on our own way
Setting up the journey

• How Do You Play in Life?
Opinion vs. Possibility

• Internal Conversation
The chatter that ties you down!

• Conspiracy for Suffering
Barriers to personal effectiveness

• Own your life results
Inspiration vs. Desperation
TOPICS - SECOND DAY
• Vision and Values
The forces that make things work!

• Integrity, Responsibility and Accountability
Your source of power, magic and miracle

• Conspiracy for Greatness
Creating and inventing practices that will support you

• Acknowledgment and Empowerment
Access to others' greatness

• What does the rest of your life look like?
What is next?